Yeah so I said that I was going to post this WEEKS ago but ya know what... I do what I can, okay? Video editing is not my thing so I kept putting this off...
BUT
COVID-19 has me FANTASIZING about going back to my office and being dressed.to.kill.
So among the many unnecessary things I have been buying (see last post about shit I didn't need but bought regardless) are some NEW CLOTHES. Yes people. I have finally gotten rid of some old and acquired a whole lotta new.
But if you know me, you know to do this, I had to enlist some help.
In comes Sarah Sailors from THE WAVE.
Sarah and I previously worked together. Her energy and positive attitude is incredible and
BY GOD
is she stylish.
Sarah works with people to reorganize, revamp, and style their closets with a mission to "end 'I have nothing to wear' by teaching women how to maximize their closets & confidence."
Sarah came over to house - PRE COVID PEOPLE - and worked with me for about two hours. We took a lot of video...maybe I'll actually get around to editing it someday.
We took everything out of my closet, went through piece by piece, styled some outfits, then y'all she worked some voodoo magic and organized my clothes like I never in a million years would have thought to do. Do y'all hang your jeans? I do now.
So to make the most of your wardrobe...
GO THROUGH EVERYTHING AT ONCE, especially now, you don't have shit else to do

Get rid of the things you don't wear, don't like, or are just...over.

Style what you have - I have never done this. Ever. I am one of those people that just wear the things the same way I always have when I bought the thing. This is because of my mother. She taught me to buy "outfits" so like this ONLY goes with this kinda thing. Her only flaw.

Make a list of what is missing and what you DO want. I have also never done this. When styling outfits with Sarah she would take a photo and to remind herself "Okay, you need a blazer with this outfit, so I'll send that in your shopping guide" Yes, y'all she sends a SHOPPABLE guide to you after she's finished transforming your life.

I mean... honestly...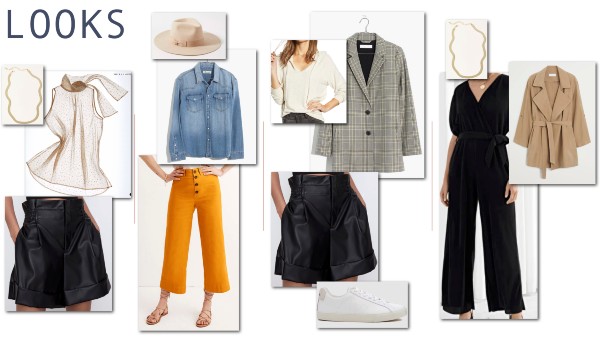 Sarah found items for me from ZARA, ASOS, Madewell, Mango, Revolve... just to name a few.
Some of the things I've purchased recently...

Shopping for me is really not a priority. Like I've mentioned, I have some clothes from middle school. Yes, middle school. Even after Sarah went through all of my things...
I enjoy shopping, going to stores and such but I don't buy things. I never buy things (PRE COVID PEOPLE) so I started using Trunk Club.
I really like it. It is easy to choose your price range, your goals - like if you ONLY need help with work wear and your office is more on the business professional side of things, you can tell your stylist that and they make you a full trunk of outfits.
Work clothing for women is just hard. HARD. Most retailers offer your grandmother's blazer or a way too trendy, not work appropriate ...thing.
The biggest thing to keep in mind is that you really do have to shop around. I was looking for a blazer for almost a year before I found one that fit me the way wanted it to. Also - TAILORING. Alter your clothes. Especially if you're a thrifter.
Don't be afraid to stray from the black, navy, beige wardrobe either. You live the majority of your life at work so dress in a way that makes you happy.